Dino Party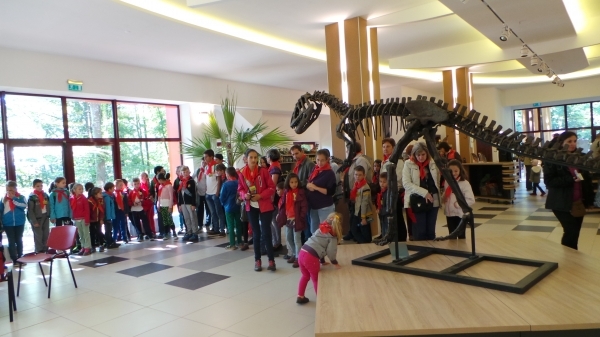 We took the children from Saint Catherine's Home in Imper and the kids from the Szeretet School of Petőfi Sándor Gymnasium to the Dino Park in Râșnov, with the occasion of World Animal Day. Each participant got a red ribbon before we embarked on our journey, as a symbol of togetherness, and a little badge with their names on it, so they wouldn't get lost. Fortunately, this never happened but we were prepared for everything. The people at the entrance of the park told us that they have never seen such an organised group visit before.
The children seemed to enjoy running around the enormous dinosaurs, but the adults were mesmerized by what they've seen too. The very lifelike dinosaurs could be petted, some of them even gave out different sounds, which the kids found very entertaining. They took pictures with the dinosaurs and told each other stories about the ones they recognized, while trying to guess in which category of species each one would fit. We had an amazing time. Once we were done analysing the dinosaurs, we took the children to the nearby playground for recreation, but they were so full of energy, they wouldn't stop playing and running around.
On our way home, exhausted after such a dynamic day, everyone fell asleep on the bus. We were still hearing stories of the park for the following weeks. It was a great experience for us. We hope that we can take part in such activities in the future as well.