Halloween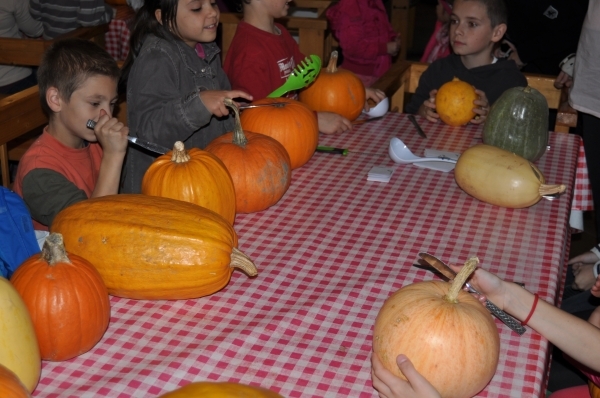 Halloween is a holiday originating from an ancient Celtic tradition, held on the night of October 31st. It is generally celebrated by Anglo-Saxon nations, but nowadays it has become a popular holiday across the world. Jack O' Lanterns (pumpkin lanterns with a carved out inside) have become the most iconic accessory of Halloween. These carved pumpkins were originally the signs of harvest season, long before becoming the symbol of Halloween in The United States.
Along with the children from Imper and the Szeretet School we have decided to carve our own pumpkins for Halloween. We gathered as many Pumpkins as we could and started our workshop on a delightful afternoon in Imper. We invited the KreaKids Studio to help us, who were already known for their experience in pumpkin carving, since they also celebrate this holiday every year with their students.
The pupils were given freedom of creativity – first, they made a sketch of their lantern, then then started working on their pumpkins. Their little hands were working strenuously: drawing, cutting and carving all afternoon. As soon as the pumpkins were ready, we placed candles inside them, and lit them up on each step of the stairway. It was a frightening view at night, but the kids enjoyed it tremendously. They were so into it, they could barely stop. Some children made four or five lanterns. The event proved to be of great success, and the stairway remained decorated with lanterns for a long time.