World Day of the Sick at the nursing home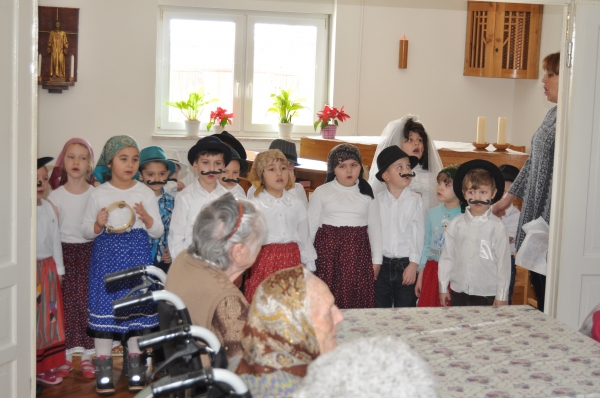 We visited the inhabitants of Szent Klára Nursing Home with the occasion of the World Day of the Sick, a Roman Catholic feast day instituted by John Paul II, celebrated on February 11. We were joined by the kindergarteners of Csipkerózsika kindergarten and their tutors, Edit Gáspár and Mária Bálint.
Helping the older generation is of key importance to us, so we visit the elders every 2-3 months and bring them everyday supplies along with other small acts of kindness. This particular visit proved to be of great success though, our most successful so far. The little ones prepared a small performance, during which we "buried winter", a custom in our area during carnival season. According to our traditions, this time of year people put on their costumes and masks and feast in order to make winter go away. An idiosyncratic moment of this tradition is the burning of a doll made of hay, dressed up in men's clothing. The elders cast their illnesses on the doll, hoping that not only will the burning of it chase winter away, but their maladies also.
The children danced and sang for the seniors, whom were instantly cheered up by the performance as they remembered their own youth. Beside the Carnival, the inhabitants received packs of basic foodstuffs, nappies and detergents, on behalf of our companies and our foundation. We consider offering our help to those that need taking care of very important, a fact based on which we will continue supporting the elderly for the years to come.